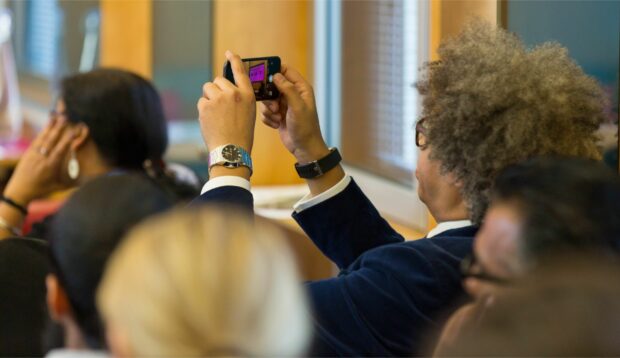 You can now sign-up for our next event on Future Directions for Research and Practice in person at the University of Manchester and online on Wednesday 6 September: 14:00 - 16:30. See below for more details.
In Western culture, design presupposes democracy. Democratic values and participation are integral to contemporary design practices, so we might say that design relies on democracy. But can democratic processes and institutions benefit from approaches and expertise associated with design? Is there an opportunity to redesign democracy? And in turn, can innovation in democracy challenge design approaches, leading to further developments in practice and new areas for investigation in studies of design and the political sciences?
These questions were the focus of the third workshop of the Design and Policy Network, held on 17 February 2023. Funded by the Arts and Humanities Research Council, the network brings together researchers and practitioners interested in intersections between design and public policy. Previous workshops have looked at tensions and resistances in the field of design in policy, and the untapped potential from design research for public policy.
Exploring these topics were an online audience of 80 people and three expert speakers: Catherine Greig, co-founder of make:good, an agency using creative methods within public engagement, and two leading academics: Professor Michael Saward, Professor of Politics and International Studies, University of Warwick, and Professor Joyce Yee, Professor of Design and Social Innovation, Northumbria University.
Design for democratic participation
Catherine Greig gave the first invited provocation, asking whether design improves public participation and under what conditions. She articulated powerful lessons from using design for democratic participation through her work with make:good, a London-based creative practice working with UK local authorities and community groups, which she co-founded in 2009.
First, she argued that without change resulting from ideas and insights generated through co-design, design just masks poor democratic processes. Decision-makers in public administrations and politicians need to be genuinely invested in, and have the ability to act on the findings from, participatory processes. To be credible, public engagement and co-design processes have to lead to action beyond the moment of participation. Further, creative workshops and co-design activities may generate feedback that is uncomfortable for decision makers, which may not endorse the policy direction being pursued. Is the commissioner ready to engage with these insights? Effective design for democratic impact is predicated on a good client, committed to taking action.
Second, in public engagement work, Catherine pointed out that some participants already have a strong sense of agency and therefore design might not necessarily enhance their participation. However, for people who do not have the same sense of agency, design can make the process of participation hands-on, playful, enjoyable and collaborative. Crucially, design offers methods for taking a step back to re-interrogate a complex problem and build a shared, holistic understanding. Design can provide a structure and enabling space for people to share lived experiences in ways that more conventional participatory approaches limit. Such approaches often exclude those who might be best positioned to feed into a public engagement process.
However Catherine warned of the danger of design being too much of a novelty, diverting the focus away from conversations that need to take place. There is a delicate balance to be struck between design being playful and engaging while also focusing on the information to be exchanged with participants. Creating conditions for successful co-design goes beyond organising the physical space; it is about the intentions that people bring, even what facilitators wear, how they speak, their body language and what signals they are projecting, which can all impact on people's experience and building trust.
Design opens-up democracy to experimentation
The second speaker, Professor Michael Saward, is a political theorist and expert in democratic innovation, who has written and co-edited several books, including Democratic Design published in 2021. Design researchers have for some time embraced the notion that systems and processes, as well as products and experiences, are and can be designed. Conversely, academics from the political sciences have rarely examined the contribution of design to political systems, processes and polity. Michael argues that taking design seriously is a way to open democracy up to experimentation.
Local community-based action, where people act together in creating new public products and spaces is more open to experimenting with design – what we might call 'design for civics'. The local community, as a micro-environment, is often a safe space for designers to practice. In contrast experimentation at the level of state or national government or the formal political system may seem remote or difficult to redesign – which can be thought of as 'design for polity'.
Michael disputed whether the focus of design for democracy should exclude practice at larger scales including national government and macro processes and institutions. The principles of design – openness, participation and inclusiveness – are relevant at multiple levels of governance. Creative and participatory design processes offer a mode of imagination, collective action and experimental doing. Bringing design to democracy is not a matter of choosing local or national, process or product. Democratic design can bridge both, being both participative and representative, local and super-local, approximate and non-proximate.
He noted that there is much to criticize about the lack of democracy in current liberal or representative democracies, for example, questions of democratic accountability and the "ventriloquism" of politicians and parties substituting for the people. In this context, design has huge potential for reimagining the institutional practices of representative democracy.
Are designers ready?
The third invited speaker, Professor Joyce Yee, questioned how many designers are ready to work in the spaces associated with government and public policy. As a co-founder of an international network for practitioners and researchers to sharing learning, Designing Social Innovation in Asia Pacific Network, Joyce has perspectives on the transcultural issues in bringing design expertise to bear on policy issues.
Joyce argued designers cannot make real societal change by operating at the margins, which is the space many are currently occupying. Many designers address the fallout or defects of the current political system from the fringes, without seeking to act from the core. She also pointed to the varied political conditions. When some design professionals and academics based in the UK, western Europe and North America talk about 'design for policy', they imply participation in a democratic process that may not exist in the same way in other countries. It may not even be desirable or invited.
To enable making change, Joyce argued, designers need more than design tools, methods and principles. They should not assume that just by using design they are encouraging participation, when systemic injustices do not allow for change. To achieve change, some designers engage and are involved in the political process, and in so doing they have become political actors, activists and lobbyists.
In short, Joyce called for more criticality in the kind of work designers get involved in to ensure they are doing impactful, equitable work. The design community needs to have an honest, and perhaps uncomfortable, discussions about what designers currently can and cannot do within the limitations of their education and life experiences. Designers bear the weight of huge responsibility for the policy outcomes on future generations and excluded communities – are they really up to this task?
Design and policy are complex
In sum, this workshop opened up some of the complexities at the intersection of design and public policy. Different conditions result in limits on, or possibilities for, the use of design approaches to address political and public policy issues. Redesigning political infrastructures and processes may benefit from design and designers, but the conditions for this engagement poses uncomfortable questions for design practice and education and for decision makers investing in such approaches.
Join our next event
Booking is now open for Workshop 4: Design and Public Policy – Future Directions for Research and Practice. The fourth and final workshop will take place on Wednesday 6 September: 14:00 - 16:30 in person at the University of Manchester and online.
This workshop will include (1) presentation and responses to a new conceptual framework to underpin design and public policy, and (2) an opportunity for those working in public policy and professional practice in design as well as researchers in design and political sciences to collaborate to propose future projects to advance research and practice at the intersection of design and public policy.
Join our community
We use this blog to talk about the work of the multidisciplinary policy design community. We share stories about our work, the thinking behind it and what policymaking might look like in the future. If you would like to read more, then please subscribe to this blog. If you work for the UK's government, then you can you join the policy design community. If you don't work for the UK government, then join our AHRC Design and Policy Network.