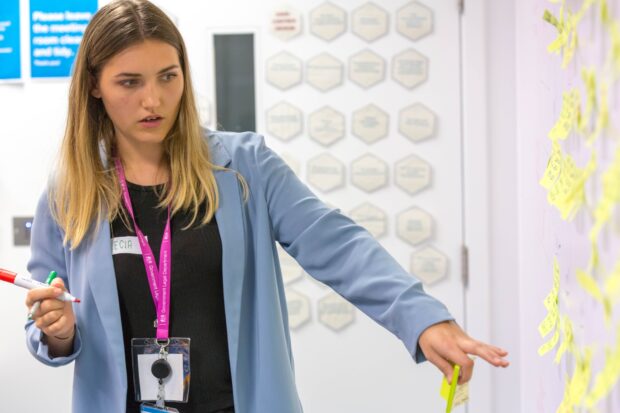 Many of the most important policy challenges we need to solve do not fall solely to one government department
The creation of four new government departments in February has focused minds on the importance of departmental boundaries and the power of their priorities. Signalling this government's priorities, the Prime Minister announced the reconfiguration of existing responsibilities and departments to establish: the Department for Energy Security and Net Zero, the Department for Science, Innovation and Technology, the Department for Business and Trade and the Department for Culture, Media and Sport.
Yet as much as responsibilities may shift between departments over time, departments' goals are so often bound up with each other that they have to work together. In fact, many of the most pressing policy issues we face today – improving productivity, tackling crime, achieving Net Zero – are cross-cutting issues, meaning more than one department are responsible for them. More than that, there needs to be cross-departmental effort if these issues are to be tackled well.
Policy goals that at first sight seem to neatly fall in one single department's remit are, on closer inspection, often cross-cutting issues. For example, the newly established Department for Science, Innovation and Technology (DSIT) aims to make the UK the country where the next great scientific discoveries are made and where entrepreneurs are able turn those ideas into companies, products and services that can change the world. The success of this policy goal relies on the UK raising new generations of scientists. Luckily, the Department for Education has been spearheading the increase in higher-level technical STEM skills, including in newer fields such as AI and data science, equipping the country with the technological and mathematical skills we need. For DSIT's ambitions to be a success, science, innovation and technology need to be embedded across government departments.
Improve public service delivery
Not only can departments strengthen each other's real-world outcomes, but they can shift the focus upstream, allowing the government to focus on prevention. While the newly established Department for Culture, Media and Sport (DCMS) is charged with (as its name suggests) sport, the Department for Health and Social Care (DHSC) also has a keen interest in the health benefits of physical activity. In fact, several of the DHSC performance metrics – the prevalence of obesity, the percentage of adults and children who are physically active, and the under-75 mortality rate from cardiovascular diseases considered preventable - are supported by DCMS's work in promoting sport from a cultural perspective. What DCMS invests in sport will have a direct impact on the health of the population that DHSC safeguards further down the line.
But the join-up between government departments doesn't stop there. The health of the nation also benefits from the Department for Transport's work in decarbonising transport and improving connectivity, particularly as it boosts levels of cycling and walking. As more people participate in active travel, this in turn supports the Department for Environment, Food and Rural Affairs' mission to make our air purer and enhance and restore the environment, as well as helping the Department for Energy Security and Net Zero (DESNZ) meet its climate targets. New cycle lanes and increased pedestrianisation enhance green spaces for local communities, tying in with the work that the Department for Levelling Up, Housing and Communities does to improve pride of place.
Taking this single example of physical activity, we see just how intertwined these departments are. Rather than operating in silos on distinct missions, their work is fundamentally interlinked: no department is an island. Moreover, as departments invest upstream in health in some form, whether that be in new cycle lanes, netball courts or swimming pools, they work to prevent us from developing health issues later. In this way, strategic join-up across government doesn't just shift work from one department to another - it reduces the size of policy problems and delivers better real-world outcomes for everyone.
Address complex social problems
Across government, you'll find innovative, and sometimes unexpected, examples of joint working. The Joint Unit for Waste Crime, a taskforce working with nine partner agencies, has helped reduce catalytic converter thefts by investigating scrap metal dealer sites. Meanwhile HM Treasury's Shared Outcomes Fund supports novel, cross-departmental pilot projects in complex policy areas to test innovative ways of working across the public sector, with an emphasis on thorough plans for evaluation. Recent projects include improving access to advanced broadband and mobile services by installing fibre cables in drinking water mains, as well as a programme combatting drug use through better join up of local law enforcement agencies, prisons, and health and social care services. These kinds of impacts are only found through cohesive join-up between departments.
Closer join-up across government
We've seen that from faster broadband to waste crime, so many policy problems across the spectrum benefit from closer join-up between different government organisations. Reducing crime, Levelling Up, achieving Net Zero – none of these issues arise neatly in the siloes of government departments, and neither do their solutions. The most effective policy solutions to the most entrenched issues are only made possible when departments coordinate and work together, even (perhaps especially) the departments that haven't historically been involved. This means different departments working together to tackle the root problem from all angles.
This coordinated join up between government departments to find creative solutions has never been so important. Public finances and public services have both been under additional pressure, coming out of the pandemic and into higher levels of global inflation. But the government remains ambitious to find ways to achieve better outcomes, such as improving our health, skills and environment, while finding savings. Closer join-up across government might just be part of the solution.
Join our community
We use this blog to talk about the work of the multidisciplinary policy design community. We share stories about our work, the thinking behind it and what policymaking might look like in the future. If you would like to read more, then please subscribe to this blog. If you work for the UK's government, then you can you join the policy design community. If you don't work for the UK government, then join our AHRC Design and Policy Network.